Finding The One can be a challenge, so what happens when love shows up in a package you didn't expect, takes
years
to arrive or people wonder if you've both lost your minds? As a certified dating/relationship coach and author of two books, including
The Real Reasons Men Commit
, I'm always fascinated to see why some couples languish while others thrive against all odds. The following stories were truly inspiring, even for me!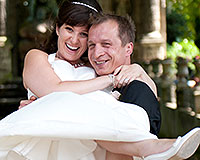 Janice & Christophe: Parisian pair who crossed the language barrier
Janice was getting over a breakup and needed a change. So, she moved to Paris and met a handsome French butcher just days after arriving. Unfortunately, Janice didn't speak French… and Christophe didn't know English. Still, the language of love brought them together.
Janice:
I sat at a café my second day in Paris and saw him working at a butcher shop across the street. I thought he was cute, so after a week of staring and smiling I approached, introduced myself and asked if he spoke English.
Christophe:
I noticed her and thought she was pretty; when she looked my direction, I thought she must like me, too. Later, I was at a bar and saw her. I thought:
This is my chance
. I asked if she'd like a beer; she nodded.
View Singles on
Match.com

Janice:
The next day, Christophe said something [that sounded like a question]…I replied, "My window, 8:30?" He nodded. That night at 8:30, he was there.
Christophe:
The language barrier meant we had to get to know each other slowly, but it was nice. We spent weeks walking in silence, taking in Paris.
Janice:
It was nice to learn about him from his actions. He was on time, smiled, always kind and chivalrous. Now we speak "Franglais" — a mash-up of our languages.
Christophe:
If we have something important to discuss, we do it at home without distractions to ensure we understand each other.
Janice:
We believe others can learn to communicate more effectively by seeing how we managed it.
Note: Janice partially translated for Christophe. Read more of their story in her book,
Paris Letters
. Janice and Christophe's photo courtesy of David Bacher.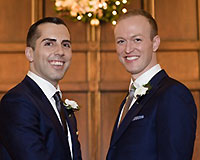 Rodney & Matt: husbands that prove love conquers all
What are the odds a Southern Baptist and Mennonite would become college sweethearts — especially if both men hadn't yet come out to their conservative parents? These businessmen (and recent grooms) not only found happiness together, but their love overcame both families' religious reservations, too!
Matt:
[As a dance major] at Shenandoah University, I was cast in an online dating-themed group composition study. I was paired with Rodney and smitten the moment I saw him — as in, head-over-heels to the point that while warming up I accidently nailed myself in the head with my own leg. Ironically, the piece's working title was "Match.com." Rodney loves to say we "met on Match.com."
Rodney:
I actually saw Matt first at the student mailboxes and fell instantly in love. Most people don't believe in love at first sight, but that's
exactly
what happened. I thought I didn't stand a chance with a guy like Matt.
Matt:
After the project, Rodney and I parted ways. Fast-forward 18 months and we both ended up at a reception, talking until the end. I grabbed Rodney's phone, entered my number and said "Call me." Ten minutes later, Rodney called to invite me over for whisky sours and to watch
American Psycho
. On our anniversary, we still pour a few whisky sours and watch that cult classic together.
Rodney:
The moment was right; if I didn't [act], there was a chance I'd miss my shot. Aside from work trips, we've been together every day since then.
Matt:
At some point in LGBT relationships, you have to "come out" to your families. We were very nervous, having both come from very conservative religious backgrounds. After opening up to our parents, we were shocked at how supportive they were, though Rodney's struggled with [reconciling how our relationship] related to their faith. Two years after moving to New York, he proposed. My mother voiced concern over whether she would be able to attend the wedding due to her religious beliefs.
Rodney:
[My family and I] spent quite a bit of time working through the challenge of their traditional religious beliefs regarding marriage. They loved Matt like family for years, so I knew they'd come around.
Matt:
We married in December 2013 at Madison Avenue Baptist in Manhattan. Both sets of parents walked us down the aisle and gave our marriage their blessings, too. I realize there are couples that have gone through much harder struggles to be together. But for us, seeing the congregation at our wedding filled with family showing their unwavering support — well, if that's not a case of "love conquers all," I don't know what is!
Note: Matt & Rodney's photo courtesy of David Castagneto,
Dreamscape Photographs
.
Lee & Rachel: punk and his princess whose love story took 25+ years
Rachel met Lee when she was a teenager living in New York and dating his close friend/band mate. They felt an immediate connection, but it took 25+ years and a cross-country move to turn into love. Now, the musician and his talent agent-turned-laser acupuncturist are happily living in California.
Rachel:
I had a crush on Lee but never did anything because he and my ex were friends who sometimes played in the same punk band. I reconnected with my ex on Facebook after moving to L.A., which led to us reminiscing about Lee. Curious about my unrequited crush, I decided to find him.
Lee:
I knew Rachel growing up; she was younger than me but went to my high school. I thought that she was a stone-cold knockout. We had a lot of mutual acquaintances, hung out in the same nightclubs, etc.
Rachel:
A friend got his number; I texted him. He was just as psyched to see me as I was to see him. I was passing through San Francisco (where he lived) on my way to Napa to spend Christmas with my dad, so we planned to have dinner December 23. We had the most amazing time, I didn't want to leave! After a tough family holiday, I turned around to spend more time with Lee. We played pool, went for dinner, saw a band play and watched movies until the sun came up and I [left for] the airport. He was a perfect gentleman. I was smitten and knew he was, too. Four days later, he drove to L.A. and we've been committed ever since.
Lee:
We were lucky that [getting together] became a realistic possibility for us. However, 25+ years is a long time, so:
Don't wait!
Rachel:
We regret not getting together [sooner], but we have 40 or so years left to make up for lost time.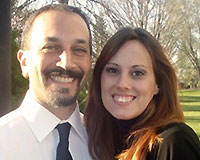 Tom & Sandi: mutual love at first sight in the Walmart aisle
Tom's mother wanted to introduce him to her coworker Sandi for years, but each time he came home to visit, she wasn't available. When they finally met, it was mutual love at first sight. After a five-minute encounter and some cross-country texting marathons, they were talking about engagement before their first "official" date!
Tom:
I lived in Las Vegas and visited my family in Albany twice a year. My mother would take me to Walmart (she's a manager) and introduce her coworkers. There was one gal she really wanted me to meet who was never around. In August 2012 I made a surprise visit and my mom said, "I'm bringing you to Walmart because I know Sandi is working." When we rounded the corner, my life changed; my heart started pounding and I thought, "Please,
please
let that be Sandi." It was love at first sight!
Sandi:
After years of hearing about Tom, when we finally
did
meet, I looked like a hot mess! I'd been at the pool that day with my kids so I never had time to take a shower or apply makeup, and my hair was in a messy knot. When he rounded the corner, I swear my heart stopped and the thought that he was The One flashed through my head.
Tom:
I couldn't take my eyes off Sandi. I'm shy, but I felt like I'd known her my whole life. We met for five minutes and when we got back to my mom's car I told her I definitely wanted to date [Sandi], but loved Vegas and had no plans to move again. Days later, I flew home but couldn't get Sandi off my mind. My mother called to ask if she could give her my number and I said "yes."
Sandi:
We texted until four in the morning two nights in a row, then I told him I'd call on day three. I had to fortify myself with a glass of wine! My hands shook as I dialed his number; my stomach was full of butterflies.
Tom:
By the end of our first conversation, I knew I'd met my soul mate. I couldn't picture her not being in my life, so the next night I told her I was already in love and praying that she felt the same.
Sandi:
It took him long enough. I knew the first second I saw him!
Tom:
Once I knew she loved me too, I decided to move back to Albany. My friends in Vegas thought I was nuts and couldn't believe I was doing this for a woman I'd only met for five minutes, but life's too short. When you find The One, you will do anything you can to be with that person.
Sandi:
His father was getting married that November and offered to fly Tom home. It seemed like the universe was lining everything up for us.
Tom:
Sandi's friend was also getting married the same weekend. So, our first date was her friend's wedding, our second date was my father's wedding and on our third date, we went and looked at engagement rings.
Sandi:
My friends all thought I was crazy and moving too fast, but something in me clicked when I saw him. I never thought I would have anything remotely like this. I love his laugh, his smile; I love the way he looks at me. I love everything about him.
Tom:
We met in August 2012, got engaged on Valentine's Day 2013 and were married on Valentine's Day 2014. We always joke that this only happens in the movies. I love everything about Sandi: her eyes, smile, and the way that she seems to know everything about me and gets who I am. You never know when you might find the person you've always been looking for.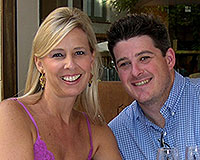 Teresa & Chris: an "accidental cougar" romance that's gone the distance
Twice-divorced Teresa had sworn off dating altogether when she met much-younger Chris (she was 41; he was 29). Teresa had never heard the term "cougar" and didn't plan to be one (though Chris playfully explained the concept). His parents and friends strongly disapproved, but their relationship's endured — even through her cancer diagnosis. The couple celebrates 10 years together this June.
Teresa:
Chris and I met through a shared passion for writing. [Our mutual writing instructor] arranged a reading at the local Barnes & Noble, and Chris came to the reading and dinner afterward. We were both in the end stages of unhappy relationships but enjoyed talking, joking and laughing with each other all evening. A group of classmates formed a writing group that Chris and I joined. We had instant compatibility; I loved his dry sense of humor and intelligence. We became good friends over the next year, but didn't date until long after [we were both single again].
Chris:
One day at a writers' group meeting, everything changed. I'd just come back from taking a brief job-change hiatus and noticed Teresa wasn't wearing her wedding ring. I remember thinking, "She's really beautiful. Why shouldn't I ask her out?" So I did!
Teresa:
Chris lured me to an Angels baseball game with the promise of Diamond Club seats. Since I was newly divorced at 41, I didn't realize he was asking me on a date. I thought he was humoring a middle-aged friend because he had an extra ticket. I was initially very hung up on our age difference. One year in, I knew that what we had was too special to give up on because of some preconceived notion of what's "acceptable." Seeing the way Chris stuck by me and how we handled my breast cancer diagnosis and treatment together clarified just how committed we are to each other for everyone else.
Chris:
She's still wickedly hot and incredibly funny. I think the fact that we kiss every day helps alleviate any tension and keeps us from fighting and holding anything in or back. It may sound clichéd, but communication really is the strongest bond a couple can have. From day one, we talked about everything — and I think it brought us closer together.
Teresa:
After 10 years, people have stopped asking when we'll get married. We feel like we've shown the world that we're together in sickness and health, for richer or poorer, for better or worse…so, we're good. What I've learned is, whatever works,
works
— don't put artificial limits or expectations on a relationship or partner. I'm glad I opened up to that.
Chris:
I love our story because there's no formal courtship, engagement, marriage, children or house-buying. We just really love each other and are committed to spending the rest of our lives together; we don't need society's approval or a piece of paper for that. We're just really good at being together and staying committed to each other.
Read more about Teresa's journey in her book,
The Dogs Were Rescued (And So Was I)
.
Kimberly Dawn Neumann (www.KDNeumann.com) is a certified dating/relationship coach who's published
The Real Reasons Men Commit
and
Sex Comes First.
---